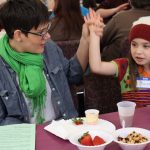 Looking for a Jewish community where you can be yourself? Temple Kol Tikvah, an independent Reform congregation, invites you to share the journey of life with us. We are a very down-to-earth community where your spirit can soar!
Our congregation is led by Rabbi Randy Kafka, and David Blocker is our Cantorial Soloist and Director of Education.
Early REGISTRATION for our learning programs will be onsite at the temple on June 3, 9:15-11:15am and 4:15-5:15pm.  Please be prepared to pay the registration fee ($175) at this time to take advantage of the discount available for payment received before June 4th. The registration fee will be $200 after that date. Checks are preferred; paying via PayPal is an option but will be slightly higher to cover the fee we are charged. We will also accept tuition for Tikvah Kids and Tikvah Teens ($250) at this time. You will be invoiced for tuition in August. Payment for registration (where applicable) and tuition must be paid in full by September 1st in order to hold your child's place in class. New members, there's a $200 new member discount! Note: Membership required for participation in Tikvah Learning and Tikvah Teens. Tikvah Kids is open to non-members. REGISTRATION WILL BE ON-GOING AFTER JUNE 3 — CONTACT LINDA (ADMIN) OR RABBI KAFKA FOR MORE INFO.
*********************
All are welcome: Interfaith couples, Individuals, Families, Seniors, LGBTQ individuals and families, Single parent families, Jews-by-choice, Empty nesters, Snow birds…YOU!
We take pride in our:  Friendly dues structure… Innovative, one-day-a-week Hebrew School, "Tikvah Learning"… Joyful, well-attended Shabbat and holiday celebrations for all ages… Responsive and inspiring spiritual leadership… Flexible scheduling for bar and bat mitzvah… Social Action projects… Adult social gatherings with opportunities for making meaningful connections… Active Sisterhood… Involved volunteer community from many surrounding towns… Handicap accessible building.
Click under "Curious About Membership" for testimonials from happy members!
For our FULL CALENDAR, click here
… or click on Upcoming Events
Proud long-term partners with Combined Jewish Philanthropies and Gateways