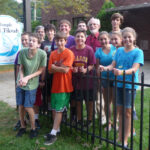 Temple Kol Tikvah is an independent Reform congregation. We gather regularly as a community for joyous worship and learning, meaningful fellowship, energetic social action, and service to the greater community.
Our congregation is led by Rabbi Randy Kafka, and David Blocker is our Cantorial Soloist and Director of Education.
(pictured in this photo are our seventh graders, plus David Blocker, Rabbi Kafka, and two of our tutors – Zach Novick and Jacob Milley)
All are welcome: Interfaith couples, Individuals, Families, Seniors, GLBT Community, Single parent families, Jews-by-choice, Empty Nesters, Snow birds…YOU!
We take pride in our:  Friendly dues structure… Innovative, one-day-a-week Hebrew School, "Tikvah Learning"… Joyful, well-attended Shabbat and holiday celebrations for all ages… Responsive and inspiring spiritual leadership… Flexible scheduling for bar and bat mitzvahs… Social Action projects… Adult social gatherings with opportunities for making meaningful connections… Active Sisterhood… Involved volunteer community from many surrounding towns… Handicap accessible building.
For our FULL CALENDAR, click here
New this year – an incentive for new members with children: a $200 discount in the first year!
Check out this video, filmed at an exuberant Channukah party, in which members talk about what they like about Kol Tikvah
UPCOMING EVENTS:
Friday, May 2 @ 7:30pm – Shabbat service
Saturday, May 3 @ 10:00am – Ethan's bar mitzvah Shabbat service
Saturday, May 3 @ 6:30pm – Annual Tikvah Teens Fundraising Dinner
Sunday, May 4 @ 10:00am – Social Action carwash/Sisterhood yard sale!
Friday, May 16 @ 7:30pm – Shabbat service
Saturday, May 17 @ 10:00am – Brandon's bar mitzvah Shabbat service
Sunday, May 18 @ 7:00pm – Rabbi Kafka speaking on her recent trip to Rwanda
For our FULL CALENDAR, click here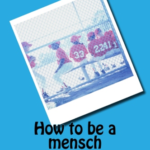 Order your copy of How to be a mensch: On the field and off, written by our children!