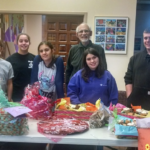 Tikvah Teens is open to 8th-10th graders who are members of the temple. The program includes monthly gatherings.
Most months there will be an optional extra meeting to PLAN in detail the next full group activity.
Each year the teens themselves plan a mixture of social action programs, field trips, and other fun activities.
Tenth graders may choose to prepare for spring Confirmation with Rabbi Kafka.
For more information, a full schedule and registration forms, contact David Blocker by phone at (781) 344-1920 or by email at EdDirector@koltikvahsharon.org.