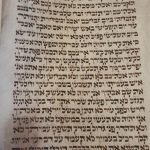 We are honored and proud to be the keepers of one of the Torah scrolls saved from Nazi destruction and now part of the Memorial Scrolls Trust collection. Our scroll (MST #1214) is an "orphan" Torah, meaning that it cannot be traced to any particular community.
Our custom is to celebrate and read from our scroll annually, on Yom Kippur afternoon. It is too fragile to handle more often.
In the words of temple president Randy O'Brien: "Those who came to the Yom Kippur afternoon service, in addition to hearing heartfelt presentations on this year's theme from three members,  also experienced a special, intimate time with our Holocaust Torah. We all gathered around the side ark and together escorted the Torah to the reading table. We thought about its story, the region it came from, and paused to recall those who once used it in their own synagogue. We then shared in reading a line-by-line translation of the afternoon Torah portion as Rabbi Kafka read it from the scroll. We then quietly, as one community, escorted it back to its ark. A simply lovely and moving ceremony."
Please visit the Memorial Scrolls Trust website for more information and educational resources.
http://www.memorialscrollstrust.org/czech-scrolls/