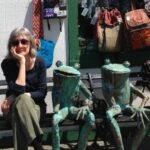 Rabbi Randy Kafka is an active member of the Sharon Interfaith Clergy Association and a co-founder of Sharon Interfaith Action. She was ordained by the Rabbinical School of Hebrew College in 2008, and earned a doctorate in Counseling Psychology from Harvard University in 1989. She lives in Stoughton with her husband Alan, who is a professor of geophysics at Boston College. Their son Jacob is an animator in Brooklyn NY.  Rabbi Kafka received the  prestigious Boston Grinspoon Award for Excellence in Jewish Education in 2016. [email protected]
Books by Rabbi Kafka:
A Time for Everything: More Reflections On What Really Matters
So May It Be: Reflections On What Really Matters
Bloom Where You Are Planted: A Spiritual Guide to Putting Down Roots
Check out her blog: rkafka.blogspot.com
Rabbi Kafka's 2014 reflections on her visit to Rwanda: https://vimeo.com/99781886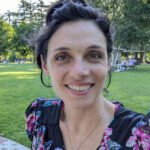 Monica Steiner is our Cantorial Intern for 2023-2024. Monica is a student at the Rabbinical School of Hebrew College in Newton, and she will be joining us this year to co-lead High Holiday and Shabbat services with Rabbi Kafka as well as to co-lead all our children's learning programs. Monica comes to us (all the way from California!) with a wealth of experiences in synagogue life, as well as a love of musical theater. [email protected]
David Blocker, our former Cantorial Soloist and Education Director, will continue to teach in our Tikvah Learning program on Wednesdays and our monthly Kids & Tots program on Sunday mornings. He will also join us for Spirit Rising services, continue b'nai mitzvah tutoring, and participate in Tikvah Teens.
Rabbis Emeriti:  Rabbi H. Bruce Ehrmann z"l, Rabbi Daniel Lee Kaplan z"l, Rabbi Richard Messing