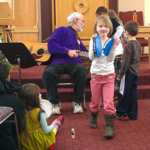 Free, monthly Tikvah Tots (pre-K) program!
Every Sunday morning that Tikvah Kids (K-2) are in session, Tikvah Tots are invited to join the fun (with a parent) for the last half hour!

Currently we are meeting in-person, plus on Zoom for anyone who prefers that option. We are always monitoring the covid situation and will shift to all-Zoom if necessary. It's lots of fun either way!
For more info contact David Blocker:
781-344-1920